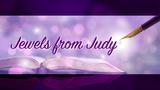 Jewels from Judy: Will You Listen for the Answer?
Judy A Bauman
Sitting in the Secret Place, journal and pen in hand, I fight distractions and seek the Lord. His still small voice begins to speak to my heart. It is not just a message for me, but for you too!

Will You Listen for the Answer?
"I have the answers to every prayer if My beloved Church will stay with Me long enough to hear them. Most calling themselves Christians pray, and then go about their day not realizing that while they want an answer to their prayer, they have not stopped talking long enough to listen for it. You cannot hear an answer if you are always the one speaking. Being still is how you hear the answer to your prayers. Do you want answers? Of course you do, and My heart longs to give them to you!

"While I do understand the pulls of the world, time must be set aside for prayer offered with thanksgiving and praise. This is when you see what I Am showing you. Ideas will come, answers will manifest themselves, and My peace will guide you. Answers will come more readily, and when you need them, if you wait until I have released you from the secret place. Make time for Me! I will give you My peace and will provide what you need; however, you must tarry with Me.

"People get to the point where they are desperate for answers. Since they won't wait for Me to release them from a place of prayer, they run to and fro trying to find answers from friends, relatives, co-workers, clergy, and worse, the internet and media.
"My Word instructs you for a purpose. While I do work through others, My remnant must first learn to tarry with Me. The anointing I placed in you through My Holy Spirit will be in agreement with the solution. Be still and know I Am God.

"Continually tell My Church that in order for them to receive answers, they must seek My face and be still and know I Am God. As they do, the shakings of this age will pass through them. I will tell each of you where to go, whether to the right or to the left, and what to do. I will give answers. I will build My temple with those willing to be My fellow-workers. Those whose work remains will receive a reward. That is My promise.

"The kingdom of God is not just words but the power of My Holy Spirit. All other power is counterfeit and seeks its own will. Hide yourself under the shadow of My wing. I Am your Refuge and your Fortress. Make Me your dwelling and you shall not be afraid."
Your Abba

This "Jewels from Judy" post is adapted from an encounter I wrote about in my first book, Jewels from the River, All-Consuming Fire. I pray it is a blessing to you as you seek Him in the coming year.

Scripture references:
Habakkuk 2:2-3
Psalm 46:10
Ephesians 4:14-15
Isaiah 30:21; Matthew 7:7; 1 John 2:27
John 14:30
Isaiah 30:21
1 Corinthians 10:15
1 Corinthians 4:20
2 Samuel 22:1-3; Psalm 91:1-9; Isaiah 41:10
Subscribe to our Email
Please sign up for email notifications of new blogs here.



Latest Posts
Archive
Categories