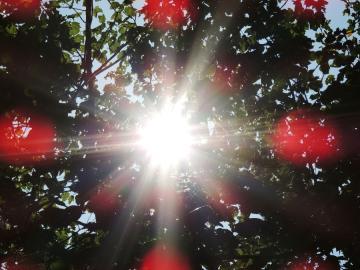 NATIONS WILL COME TO YOUR LIGHT
Judy A Bauman
https://www.thefathersloveim.org/jewels_from_judy_blog/view/2443
Published in the book "Jewels from the Harvest" all rights reserved ©2018

"AND THE NATIONS OF THOSE WHO ARE SAVED SHALL WALK IN ITS LIGHT,
AND THE KINGS OF THE EARTH BRING THEIR GLORY AND HONOR INTO IT." REVELATION 21:24

THE DAZZLING LIGHT
While journaling, I suddenly see myself standing near a bend of the River. Everything is so electrically dazzling that the brilliance of this scene would blind my natural eyes! Each ripple in the water acts to magnify and reflect beams of light like the facets of a diamond, and though I see this with spiritual eyes, I have to allow them to adjust to the brightness. As I do, I sing aloud:
You are Beautiful, Marvelous, Excellent, Radiant
I am astounded by Your brilliance
The One who is Faithful and True are You
The One who is Faithful and True – are You
It sounds like many voices join me in singing, although I don't see anyone. The Holy Spirit reveals these are His saints from all over the world worshipping God in spirit and truth. Looking at the River, I ponder how each light reflecting off the water represents individuals in Christ who carry His light. They are in the flow of the River – the flow of what God is saying and doing. These saints will go where He sends them because they love Jesus more than their own lives. I see the Lord tenderly caring for each light and testify that they represent those who carry God's glory. They bring the Light of the World to the nations. They flow in the will of God, and they flow with the Word of God. They are able to rest in the current of the River, knowing He is the One who carries them.
ENCOURAGEMENT FOR GOD'S LIGHT-CARRIERS
I ask the Lord if He might speak a word of encouragement to His Light-Carriers. The Father immediately declares, "Tell those who carry My light, My love, My hope, My peace, My righteousness, and My Word that they must stay in the middle of where I am flowing. If they don't, a spiritual eddy will entrap them. Eddies run contrary to the flow of the River and represent living contrary to My will. It takes a huge amount of effort to free oneself from an eddy once entrapped. This is where debris is seen swirling about in the backward current. This symbolizes the cares of this world and the deceitfulness of riches. Such things capture and defile many.
"My Light-Carriers must stay in the midst of the flow of My River. If they do, they will shine with the light of My glory and continually be My Light-Bearers. They must also rest in Me and allow Me to carry them to the fulfillment of their destinies. There are individual and corporate destinies, and they work hand-in-hand. I say again, 'Arise, shine for your light has come. The glory of the Lord rises upon you and appears around you. Nations will come to your light and kings to the brightness of your rising.'" ~End Encounter
REFLECTIONS:
It always amazes me when the Lord gives me a word when I specifically ask for one! However, it's much more likely that the Holy Spirit has been waiting for me to be ready and willing to receive the word to share with the Church, not the other way around. Since God has called us to be lights to the world, it's His desire we reflect His will and ways to those around us. It's been said, "Preach the Gospel, and if need be, use words." Being a Light-Carrier, a Light-Bearer, is about how we live our daily lives, not merely what we espouse.  


Subscribe to our Email
Please sign up for email notifications of new blogs here.



Latest Posts
Archive
Categories